Welcome to the Fairfax Coin Club - We are now 80+ Members Strong!!!
Our next meeting is Tuesday, February 12th!!!
The Fairfax Coin Club is looking to attract new members, both beginners and experienced, to join and share their knowledge in their favorite coin collecting specialities.
The Fairfax Coin Club meets regularly the second Tuesday of the month at the Vienna Community Center located at 120 Cherry St SE, Vienna, VA 22180.  There is plenty of FREE parking.
Visitors are always welcomed!
Coin of the Month - December 2018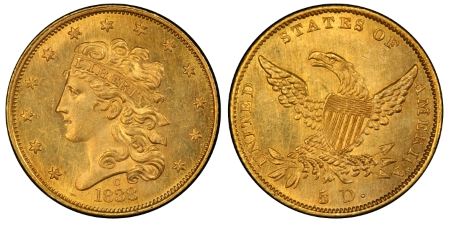 There's gold in them thar hills!  But it aint in California!
The first gold rush in the United States was not westward to California, but to the southern gold states from Virginia to Georgia. Gold was discovered in the 1820's and the rush began when large amounts were discovered around Dahlonega, Georgia in 1830.  It is not well known but gold mines existed here in Virginia.  The first record of gold from Virginia being deposited with the U.S. Mint for gold coinage was in 1829.  At one point, the Bull Neck Gold Mine operated in Fairfax County near (now) Falls Church.
Gold coinage commenced at the new U.S. Branch Mint in Charlotte on March, 28, 1838.  The first coins minted were 1838-C Half Eagles.  The official mintage recorded is 17,179, and only an estimated 175 survive today.  This coin is graded PCGS MS63 and is the finest known for the date.  Not only that, it is the only Uncirculated 1838-C Half Eagle known to exist, making it an extreme rarity in both date and grade.  This is how the coin was described in its most recent auction appearance, "Luster abounds on both sides, highly satiny on the obverse but cartwheeling more evenly on the reverse. The fields of both obverse and reverse show attractive reflectivity, contrasting pleasantly with the well struck devices. The freshness of the surfaces is barely diminished by the presence of light hairlines and scattered light marks. A short scratch crosses star 5, and a tiny nick is noted high on Liberty's cheekbone; on the reverse, a series of faint abrasions are seen in the field beneath OF. Vertical polish lines on the planchet remain evident on both sides."
Here is the coin's provenance, including its current residency in a Virginia collection:
Stack's, April 1978: Lot 853 realized $10,500
Superior, October 1989: Lot 4378 realized $48,400.  Graded NGC 63
Andy Lusting; Akers/ Rarcoa, August 1991: Lot 987 realized $38,500
Goliad Corporation
Harry Bass, Private Treaty: August 15, 1991, ANA Convention
Bowers and Merena, Harry W.  Bass Jr. Collection, Part II, October 1999: Lot 866 realized $86,250.  Graded PCGS MS63
Private Investor via Doug Winter
Pogue Collection
D. Brent Pogue Collection, Stack's Bowers, May 2016: Lot 4058 realized $235,000.  Graded PCGS MS63 (32916357)
Virginian Collection